Packaging engineer, a role with varied and comprehensive responsibilities Bring high performance packaging solutions to market By means of an analysis of research studies, a packaging engineer identifies the technical requirements, economic conditions and time constraints which will come into …
Packaging engineer, a role with varied and comprehensive responsibilities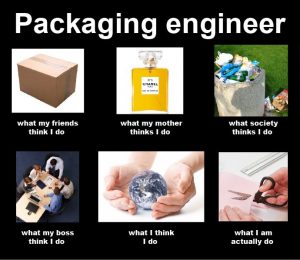 Bring high performance packaging solutions to market
By means of an analysis of research studies, a packaging engineer identifies the technical requirements, economic conditions and time constraints which will come into play in developing an effective packaging solution, and ensures communication and reporting throughout the life of the project.
Other responsibilities include carrying out analyses of competitors and the external environment in order to come up with the packaging solutions of tomorrow.
Implementing the project
A packaging engineer develops and optimises packaging solutions, graphic design, and packaging and wrapping equipment.  This involves specifying and checking that these meet the necessary technical, regulatory and economic criteria. Then feasibility studies are undertaken and solutions put into production via packaging workshops and manufacturers.
Provide technical support
Packaging engineers also support the practical implementation of packaging systems, both within and external to the company, and guarantee regulatory compliance.
They also resolve malfunctions, suggest and implement required improvements, and evaluate the overall performance of the initial production.
Improve performance
A packaging engineer's role also includes analysing customer complaints, production and supplier non-conformities.
This entails undertaking diagnoses of processes, packaging ranges, and the economic structure of packaging, as well as drawing up and putting forward improvement plans for the packaging system.
Recent roles that are enjoying a boom
Technical Projects Manager – Yves Rocher
Packaging Technical Project Leader – Philips Automotive Lighting
Engineer, Packaging Development – Johnson & Johnson – Global Strategic Design Operations
Packaging Manager, R & D  Europe –  Affinity Petcare (Spain)
Development & Mechanisation Manager – S.C.A. Packaging
Packaging Category Manager Fragrance – Oriflame (Sweden)
Development Engineer Care products – Parfums Chanel
R & D, Methods, Laboratories and Innovations Manager – Emin Leydier
Packaging Development Manager – Groupe Bel
Packaging Projects and Optimisation Manager – Nestlé Purina Europe
Industrialisation Manager – Rexam Pharma
Packaging Lab Manager – Pepsi Cola Int. (Ireland)
Site Operations Director – Abzac Canada Inc.
Group Packaging Manager – Somfy
Development Manager Packaging/Purchasing – Groupe Ales
Exploitation Director –  LRG – Cartonex
International Coordinator MDD – Kingfisher group – Castorama
Research Manager – Capitole (Groupe Saica Emballages)
Global Packaging Manager – Novartis OTC
Manager Packaging Research and Innovation – Shiseido Int.
Packaging Graphics Engineer Europe – Barilla Harry's
Brand Packaging Developer – Agency – Graphèmes
Information Systems Manager – Cadarache
Graphics Coordinator – Senoble
Printed Products Developer – Martell, Mumm, Perrier-Jouët
Print Department Manager – Imperial Tobacco Worldwide
Packaging Products Engineer Marque Repère –  Scamark
Packaging & Design Manager, R&D – Nestlé USA Backersville
Infographics and Production – Laboratoire Biopharme
Graphics Manager – Schering Plough
….
Users, Distributors and Manufacturers of Packaging, from SMEs to Multinationals
Food and agribusiness
Cosmetics and Perfumery
Pharmacy
Chemistry
Industrial products
Supermarkets
Cardboard manufacturers
Plastics
Printers
Sectors that are recruiting:
Perfumery and Cosmetics: SHISEIDO, Yves ROCHER, ROCHAS, PUIG PRESTIGE (Paco RABANNE)…
Pharmacy: NOVARTIS, ROCHE, LILLY, BAYER, CLARINS…
Food and agribusiness: PEPSI COLA, MOET & CHANDON, MASTERFOOD, NESTLE PURINA, MADRANGE, CADBURY, ROYAL CANIN, BONGRAIN, Pains JACQUET…
Other users of packaging: PROCTER & GAMBLE, LEROY MERLIN, AUCHAN, DECATHLON, REYNOLDS, RECKITT BENCKISER, 3M…
Creative agencies: IDEOPS, GRAPHEMES, CB'a DESIGN…
Packaging materials and machines: SMURFIT KAPPA, INTERNATIONAL PAPER, SEYFERT, EMIN LEYDIER, ST-GOBAIN DESJONQUERES, BORLIOLI ROCCO, LEYGATECH, AUTOBAR, TREOFAN, BOBST…
Just a few of the roles in which our graduates are now employed, plus an indication of their education prior to Esepac:
Renaud, Master's in Chemistry, Packaging Development Engineer
Jean-Daniel, Bachelor's (Technology) in Chemistry, Packaging Director
Emilie, University Diploma in Industrial Technology, Logistic Project Leader
Franck, Bachelor's (Technology) in Biology, Packaging Manager
Anne, University Diploma in Mechanical Sciences, European Development Manager
Caroline, Bachelor's (Technology) in Business Management, Packaging Manager
Benoît, Bachelor's in Chemistry, Packaging Development Engineer
Laurence, Bachelor's in Quality, Packaging Quality Engineer
Alexandrine, University Diploma in Physics, Drinks Development Manager
Marc, Bachelor's (Technology) in Chemistry, Packaging Project Manager
Romain, University Diploma in Chemistry, Support Service Team
Loic, University Diploma in Biology and Biochemistry, Packaging Development Manager
Julien, Bachelor's (Technology) in Packaging Engineering, Head of Packaging Group